Unless you've been living under a rock for the last decade, you've likely seen someone smoking an e-cigarette.
Unlike vapes that blow out massive clouds, e-cigs are more compact and discrete. Due to its skyrocketing popularity, you can now find virtually infinite brands of e-cigarettes and vapes on the market.
But with so many e-cigarette brands, which should you choose?
To make your life easier, we've compiled a list of the top retailers to consider when making your next purchase this year.
Keep reading our highly vetted list to discover the top e-cig brand for your preferences.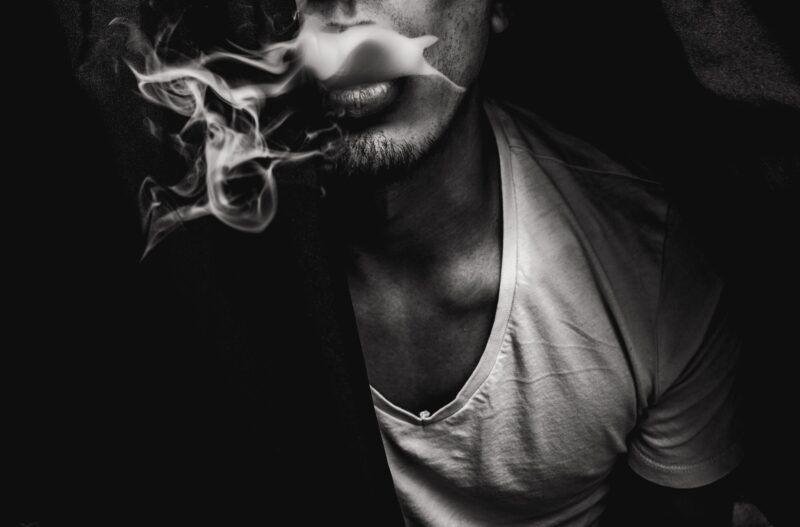 1. RELX
The RELX e-cig is one of the most popular beginner-level brands on the market. The design is extremely simple and easy to use. It's compact, sleek, and totally accessible just about anywhere. All you need to do is drop in one of the magnetic pods and take a drag.
What's more, you can choose from a wide variety of e-liquid flavors on their website. You can also choose how much nicotine you want in your pods, the most popular being 3% and 5%.
One reason why this brand is an excellent choice for beginners is that it only has two components — the battery, and the pods. The magnetic force of the pods is incredibly strong, so you never have to worry about them falling out. The RELX starter kit comes with everything you need to start vaping right away. Furthermore, it hits incredibly smoothly without any leaking or spitting.
Pros:
Wide selection of e-liquid flavors to choose from
Comes with all components needed for vaping
Worldwide brand
Cons:
Takes a long time to fully charge
Verdict
If you're new to vaping, the RELX classic e-cig is a fantastic way to start. With all the available e-liquid flavors and easy-to-use design, you can't go wrong. It's also discrete if you want to be more conservative while you take a drag.
2. SMOKO Vape Starter Kit
The SMOKO Vape Starter Kit has to be one of the easiest to use e-cigs available. All you need to do is open the box, let it charge, and you're ready to start vaping. The best part is that it comes preloaded with e-juice. When it comes to vaping, it truly doesn't get much easier than that.
While the vape may not be the most beautiful device out there, it works extremely well and the brand has several positive reviews online. What's impressive about the SMOKO Vape Starter Kit are the flavors. All the options taste amazing and don't leave your mouth with any unpleasant aftertaste.
Several customers report that they didn't have any issues with leaking or gurgling while using it either. On the company website, you can choose from several e-liquid flavors or go with classic tobacco.
Pros:
The Starter Kit comes ready to use
E-juice flavors are extremely realistic
Highly affordable
Cons:
Not as customizable as other e-cigarette brands
Verdict
If you're looking for an e-cig that requires no setup, then the SMOKO Vape Starter Kit is worth checking out. However, you won't be able to cycle through flavor pods like you can with other vape brands.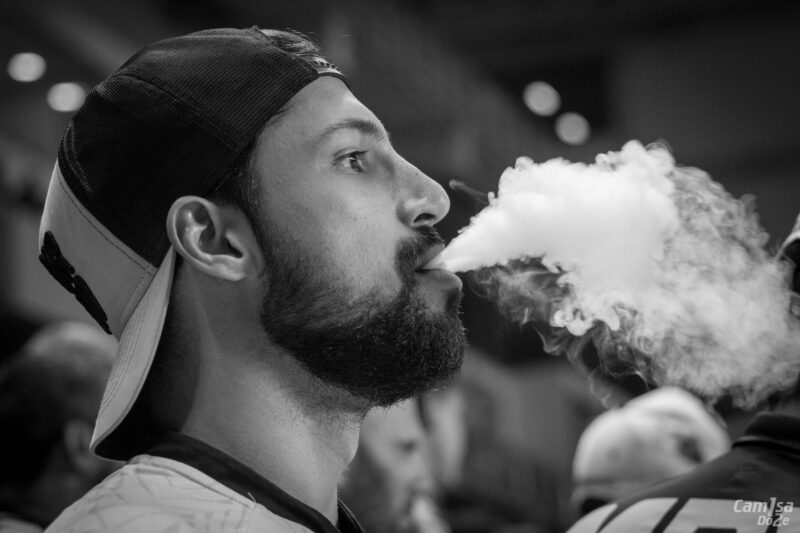 3. Apollo Ohm Go
For those looking for something that screams elegance, then the Apollo Ohm Go is perhaps where you should start. The e-cig comes with two modes that offer a unique vaping experience. The Mouth to Lung (MTL) coil gives more natural smoking feel where the Restricted Direct to Lung (DTL) coil brings something more familiar with other vape brands.
Whichever mode you choose, the vape gives an incredibly smooth drag. The brand has a wide selection of flavors to choose from, and each proves extremely milky clouds.
The 1900mAh battery is powerful and reliable. You can practically use it for 1-2 days before you need a charge. What's more, you can adjust the wattage settings to find something more comfortable.
Pros:
Sleek and high-end design
Adjustable power settings
Long-lasting battery
Cons:
Not as suitable for beginners
Verdict
The Apollo Ohm Go isn't a brand to mess with if you're looking for a vape that's plug and play. That said, full control over the power settings can give you the ultimate personalized vaping experience.
4. Dinner Lady Pod
Disposable e-cigs have become increasingly popular due to their convenience. While some people aren't huge fans, they still function well and provide some decent flavors. The Dinner Lady Pod is no exception.
The Dinner Lady disposable pods are an excellent choice if you're new to e-cigarettes, and you want to test the waters. The e-cigs are quite strong with a nicotine content of 20mg, but they still draw incredibly smoothly. Lemon tart is one of the most popular e-liquid flavors since it tastes nice and numbs out the heavy nicotine feeling.
The multi-pack offer is excellent value for money, and will completely satisfy your cravings.
Pros:
Extremely convenient and easy to use
Delicious flavor variety
Affordable
Cons:
Can be strong for beginners
Verdict
If convenience is what you're after, you can't go wrong with the Dinner Lady Pod. The brand has a super-simple design and is as easy as pie to use. Plus, you'll never get bored with the flavors. You can find all about different types of flavors if you just visit this website.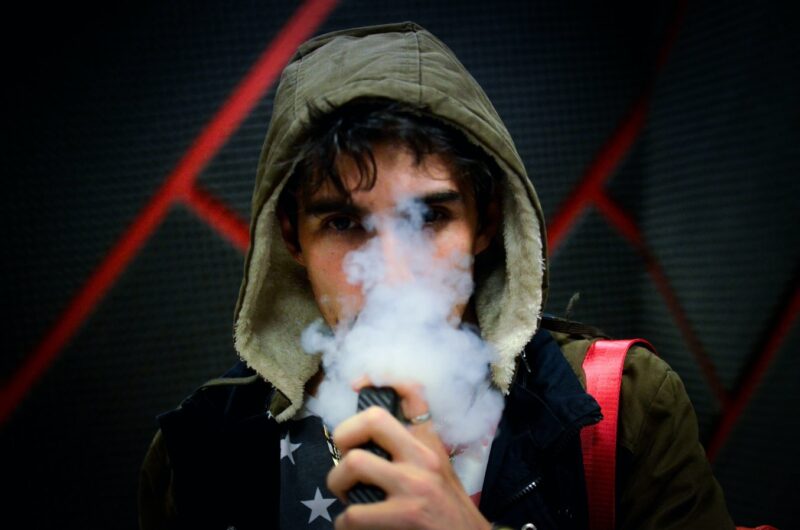 5. RIPTIDE RIPSTICK
The RIPTIDE RIPSTICK has an extremely simple cartridge system that makes them super appealing to beginners. Whenever the cartridge is finished, all you have to do is swap it out, and you can start vaping again. You can also change flavors as you wish.
The RIPSTICK has an extremely slim and sleek design that's easy to store and is quite discrete. The draw technology is smooth, so each vape drag is exceptionally satisfying. Several customers report that using the RIPSTICK is an ultimate vaping experience without the hassle of dealing with messy vape e-liquids.
While there are only six flavors to choose from, each of them is incredibly delicious and doesn't leave any aftertaste.
Pros:
Beautiful design that fits neatly in your pocket or handbag
Smooth drag and incredible flavors
Durable and long-lasting
Cons:
Mixed online reviews about the brand
Verdict
If you want an easy cartridge-based system, then look no further than the RIPTIDE RIPSTICK. However, it may be tough to get one online depending on your location.
6. VYPE Pod
The VYPE E-Pod is, hands down, one of the best quality e-cigarettes on the market. The device uses disposable pods that you can buy in packs of 10. Depending on your taste, you can choose from a vast selection of 10 realistic vape flavors. Some of the most popular ones are tobacco, mint, and tequila sunrise.
One reason why the VYPE Pod is a fantastic choice is that there aren't any buttons involved. All you have to do is drop in a flavor pod, take a drag, and you're all set.
The only downside is that the vape has a gurgling noise when you draw it, which may bother some users. Other than that, it's a perfect e-cig for beginners and seasoned vape enthusiasts.
Pros:
Available in three colors
Flavors are unique and taste realistic
Easy to use
Cons:
Verdict
Make sure to check out the VYPE E-Pod if you're in the market for a simple vape pen at an affordable price.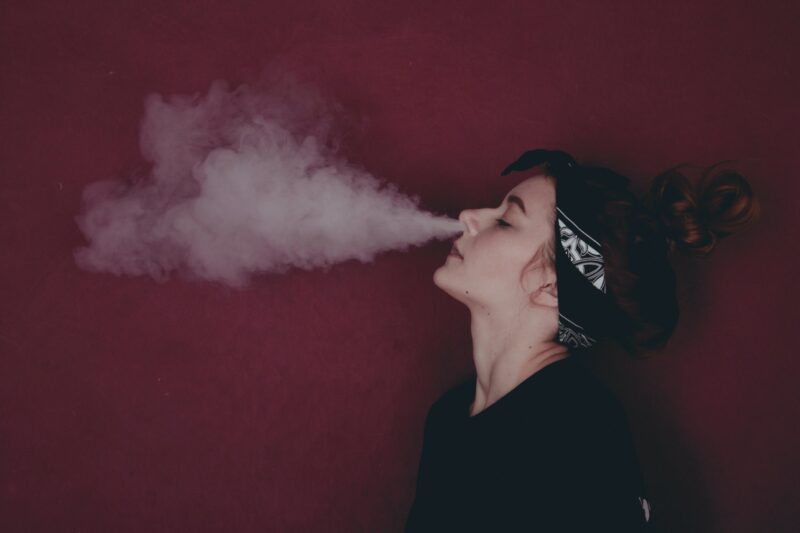 7. BO Vaping
The BO Vaping System brand hails from France, so you can bet that it's extremely stylish. Like other vape pens on this list, all you have to do is add a cartridge, and you can start using the BO Vaping system immediately. The battery life isn't the longest, but you can still get a good few hours of vaping in before you need to charge it.
One unique aspect of this system is it doesn't produce thick clouds, which can be a good or bad thing depending on your preferences. That said, it makes the device far more discrete than other e-cigarette brands in the industry.
Pros:
Beautiful design that matches multiple styles
Can use right out of the box
Reliable battery
Cons:
Limited information about the brand on the company website
Verdict
Although you may not be able to draw big clouds with this pen, it's still incredibly smooth and tastes absolutely delicious.
8. Ripple Pen
Right off the bat, the Ripple Pen is known for being nicotine-free. What's more, their flavors are vegan-friendly. Since there's no nicotine, users won't have any physical addiction while using this pen. The design looks like any other e-cig, but it offers a nice smooth drag.
The plant-based flavors are nothing less than delicious.  Furthermore, there aren't any unpleasant feelings in the throat after use.
Pros:
Vegan-friendly flavors
No nicotine
Long-lasting (500 puffs)
Cons:
Verdict
The Ripple brand is surely making a name for itself in the industry. If you want a nicotine-free option, they're definitely worth considering.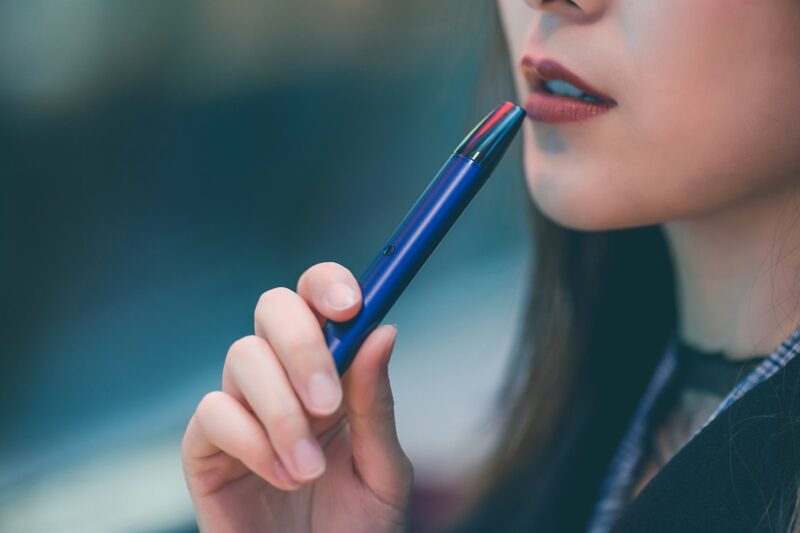 9. JUUL
No doubt, JUUL is one of the most popular e-cigarettes brands in the industry. However, there are several mixed feelings in the market about their products. JUUL is one of the biggest brands in the vaping game, so you can expect them to have some innovative products and flavors.
The JUUL pods have an incredibly smooth draw, but the taste and feeling in the throat can be quite rough sometimes. That said, some people are into that style.
Pros:
Lots of vaping industry experience
Durable devices
Always creating new vape products
Cons:
Can be quite strong for beginners
Verdict
If you want products from a reliable vape brand, you can't go wrong with this Silicon Valley brand. However, other boutique brands may have better options.
10. My Blu Pen
Like JUUL, Blu is another big name brand in the vaping industry. While their flagship product is their disposable e-cigs, the My Blu Pen offers people an extremely smooth drag at an affordable price. The device is easy to store right in your pocket or bag. Although the flavor options are limited, they still taste great and don't leave any raspiness in your throat.
Each pen has 18mg of nicotine, which can be quite rough if you aren't used to it. That said, you can sometimes find ones with 9mg of nicotine on the company website.
Pros:
Compact and easy to store
Reliable brand
Three colors available
Cons:
Verdict
A decent brand for those looking for a strong drag. If you want something lighter, then another option is probably more suitable.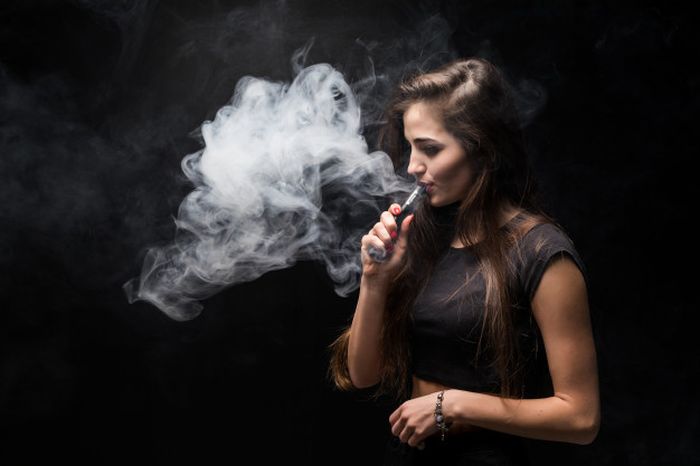 Conclusion
E-cigarettes and vaping don't seem to be going anywhere soon.
We've done the hard work of vetting some top brands on the market and covering their unique selling points. You can feel confident when selecting a brand on our list because you'll certainly get the best product and experience possible for your preferences. Happy vaping.