There has been a lot of hype around the DaVinci IQ2 Vaporizer and we couldn't miss this opportunity to see what all that hype is about. Keep on reading if you want to find out too.
Cigarettes are a thing of the past and e-cigs are the future. Whether you prefer to use box mods, pen-style cigarettes, or vape kits, you are part of that better, healthier, and more convenient future. There really is no reason why people should still smoke regular cigarettes because vaping is already a cheaper alternative. Not only is it cheaper, but it is also fully customizable which means you can achieve any kind of taste you want if you have the right vaporizer.
However, since you are here and reading this article then you probably already know about all the benefits from vaping, so you are probably more interested in what we have to say about the DaVinci IQ2. This model is an interesting choice and we are excited to tell you all about it. We are going to cover details about how it works, its unique features, the quality of the materials, and a bunch of other stuff that you probably want to know about.
Design and build quality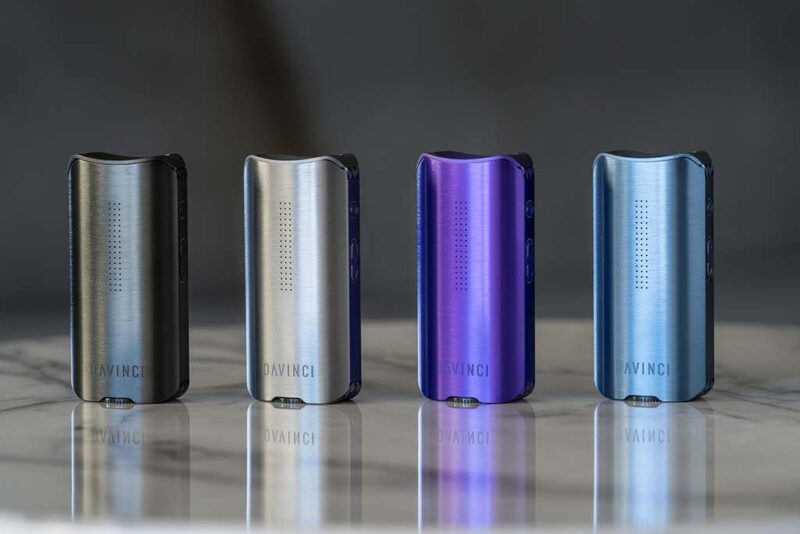 Before we delve deeper into this subject, I should make it clear that the DaVinci IQ2 has a pretty sleek design and it is made out of high-quality materials. You can easily see that DaVinci went for something modern and futuristic because the entire device is simple, but informative at the same time.
The exterior is made with a brushed aluminum finish which is why it feels so good when holding in your hand. It feels smooth, but it won't ever slip out of your hand because the texture of the brushed aluminum provides a great grip. DaVinci offers four different colors that you can pick from when purchasing the product. The choices are cobalt, amethyst, graphite, and onyx. To put it simply, soft blue, blue-violet, metallic gray, and black. Whichever of these colors you pick, the IQ2 will always look great. Although, the taste for vaporizer designs are individual, so some people might not like the modernistic look.
Another thing I have to mention before going into other points about the IQ2 is the fact that it is made out of high-quality materials. The aluminum body is sturdy, so dropping it probably won't do any kind of damage to it. Naturally, I wouldn't recommend ever dropping it because you might break something on the inside, but I still think it is more durable than most of the other contenders on the market. I believe I had to mention this because I've seen a lot of reviewers being amazed by its build quality, especially in this review.
It's pretty simple to use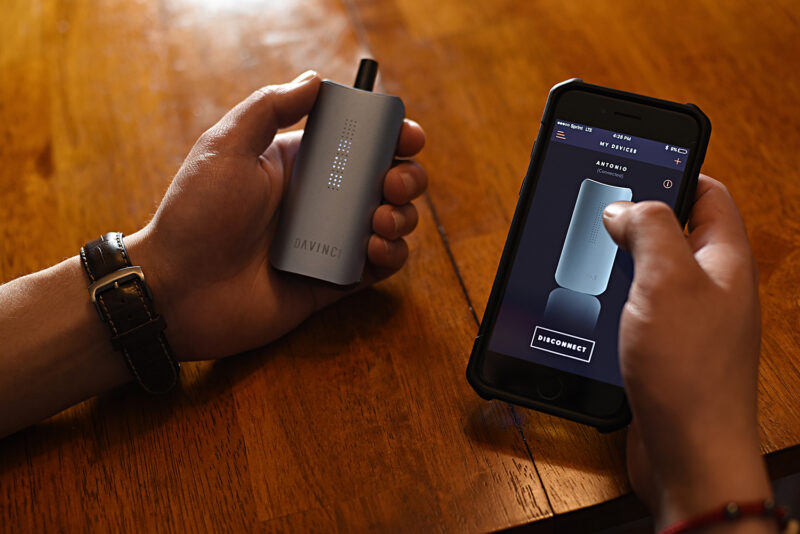 When you first get the device and you unpack it out of the box, all you have to do is just press the power-on button. Once you have powered it on, you can immediately start vaping after about 20 or 30 seconds once the temperature reaches its target. It may not be the fastest you have heard of, but it is still pretty fast. By default, it has four different presets that you can easily sift through with the buttons on the side. You can choose which of those four presets you want to use based on the temperature you prefer.
Don't worry, if you want to fine-tune the temperature of the device to get the perfect vape, all you have to do is download the DaVinci application on your phone and then directly connect it with the vaporizer. Once you're connected, you can easily adjust the temperature or any other setting that you want.
Simple to refill too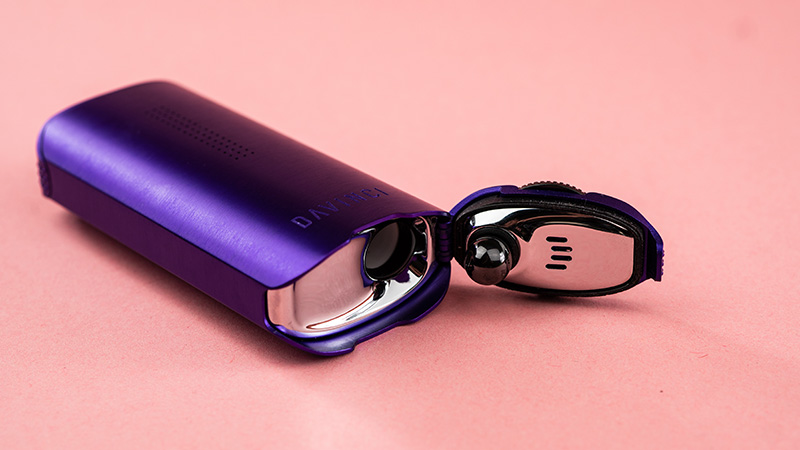 The entire point of this vaporizer is to be as simple as possible.
To refill it, all you have to do is open up the bottom down the herb that you want to use. The opening at the bottom is pretty big so you don't have to worry about spelling out too much or something like that. Once you're done, close it, power it on and start vaping.
Removable battery and long battery life
Since the entire device doesn't have any kind of complicated LED displays to spend precious battery charge, the DaVinci IQ2 lasts quite a bit. In my experience, one charge lasted around 7 to 9 sessions which were about 7 to 8 minutes long. That is quite impressive considering the power of this little device.
Another thing that I know you will love is the fact that the battery is completely removable and you can change it whenever you want. If the battery starts to degrade sometime in the future, in two or three years, you won't have to change your vaporizer, you can just replace the battery. This is something that many companies avoid adding to their products, so that is a great plus for DaVinci.
No USB-C charging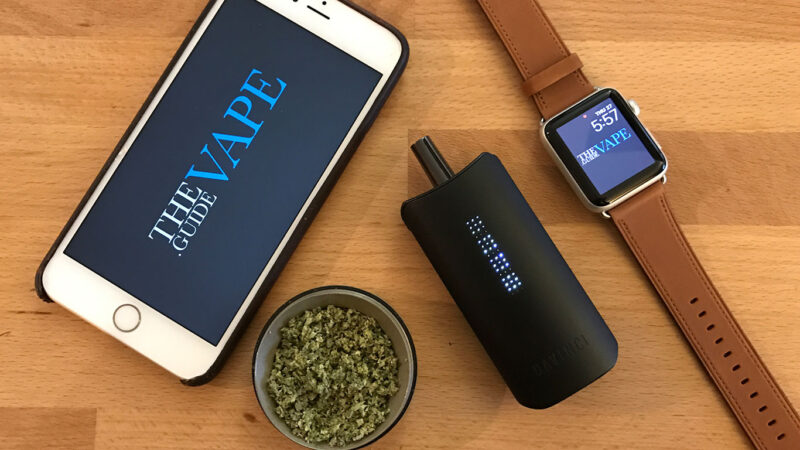 One of the most disappointing things about IQ2 is the fact that it has a Micro USB port instead of Type-C. Many people would say that micro USB is still very common and it's not such a disadvantage, but I do not agree. We have had Type-C charging in phones and all kinds of devices for more than five years now and I just don't understand how companies still haven't made the switch to this new standard.
For those that do not know why I prefer type-C over micro USB, it is basically because Type-C can send a lot more power which means faster charging. I also prefer it because most 2023 devices use this new standard instead of the old one. So, having to interchange between the old and the new standard is starting to get a bit annoying.
All in all, the IQ2 is a great device that has its disadvantages, but there is no perfect vaporizer on the market yet, so I guess it is a great contender. If you are the type of person that needs something straightforward, I guess the IQ2 is a pretty good option.