The Volcano Hybrid Vaporizer is the third generation of vaporizers made by the same company and people are wondering if it is the best one yet. Here we are going to talk about the specifications of it and the experience you are going to have when you use it. Use this review to make up your mind if you want to get it or if it is better to choose a simpler, and portable unit.
Specifications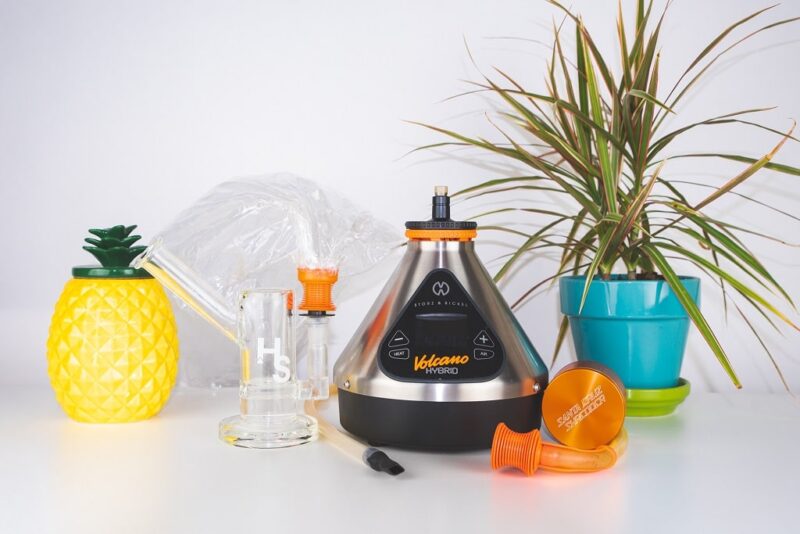 The size of this device is 7.1 x 7.9 inches and it weighs 6.5lbs. The heating time is between 30 and 90 seconds depending on how much herb you are using. You can use only dry herbs with it and there are two ways to inhale them. You can either use the balloons or the tube that comes with the device.
It is compatible with both iOS and Android and you can control the power and the temperature using the digital touch display.
Accessories and Kits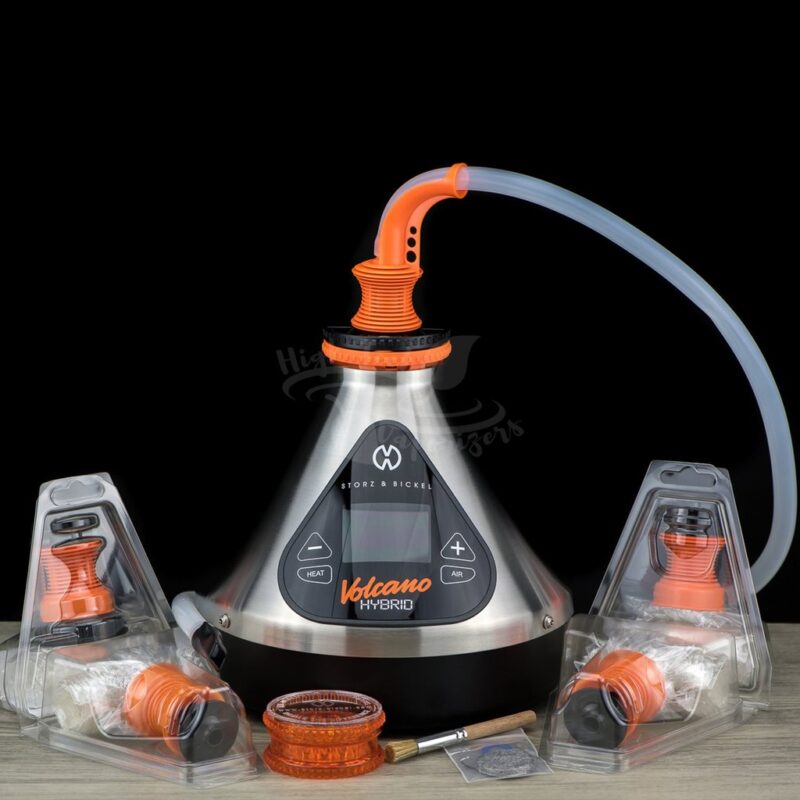 There are a lot of things you are going to get with this Volcano Vaporizer, starting with the three balloons that come with mouthpieces and one that comes with an adapter. You will also get a whip, or a tube and a capsule chamber.
The capsule chamber contains a screen set, a drip pan, and a cap ring. You will also get a cleaning brush so that the maintenance process is going to be easier. Of course, you will get a power cord that you can use to charge the device and you will get an air filter set and a herb grinder. Depending on where you are going to purchase the device, you may receive more or fewer things, so make sure you read what's included with it. All of these things can be additionally purchased or replaced when you use them up or if they break.
The dosing capsules come with the device, and they need to be filled with the herb before you use them. The filling set is a great thing to get and it is used to fill almost 50 capsules at the same time. This tool will save you a lot of time and you won't have to bother filling the capsules one by one.
If you don't want to use the full capacity of the device and if you want to use a smaller capsule, you can get the chamber reducer. This tool will allow you to put a smaller bud and you can choose between using the capsule or just adding the dry herb inside the reducer.
How to use it?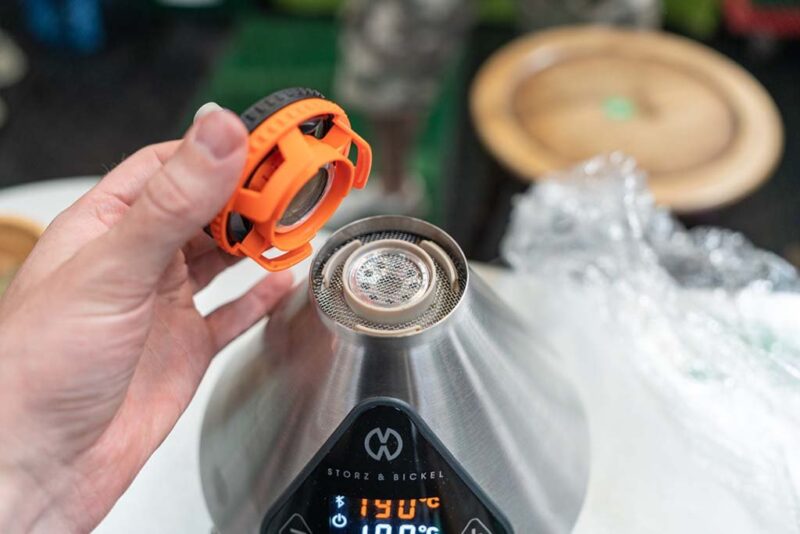 This device is different than the digital one and if you want to learn what additional features it has, you can click here. The unit is really easy to use and it is as simple as the previous generations. The only thing you'd need to do is fill the dosing capsule. It fits more than just one gram of the desired plant, and you can use more herb if you want a longer and more powerful session.
The next thing you should do is close the chamber and set the temperature. You can choose between different ones, and if you are a new user, then you can test several temperatures out to see which one gives you the best experience. Don't forget to wait until everything is heated up properly before you use the vaporizer. The great thing about this device is that it will reach the desired temperature in about 30 seconds, so you don't have to wait for a long time, or find something else to do until it is ready to use.
When everything is ready, you can either attach the tube that comes with the device and inhale directly, or you can use a balloon. If you choose the latter, then you will need to press the air button. Users say that with half a capsule, you will get about one full balloon. Use a full capsule if you want to enjoy a longer experience.
Positives and Negatives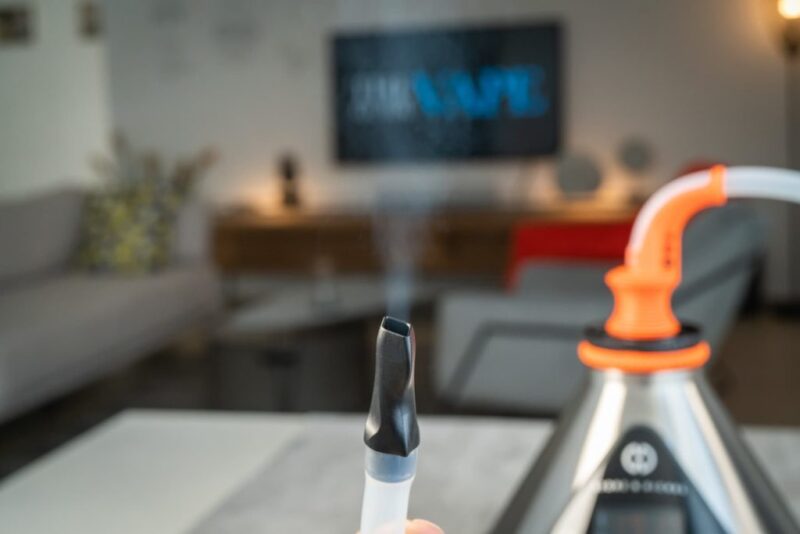 Just like every other device, this unit has good and bad things about it. The first thing that users notice is the quality of the vapor. It is said that you will get a lot more flavor than with any other similar unit.
The inhalation experience is enhanced as there are no artificial flavors and materials. You will have a better experience and you will be able to taste the herb only.
Another great thing about the inhalation process is that it cools the air down, so you won't risk burning yourself or tasting only hot air. Users suggest that you will feel like you are breathing instead of inhaling a hot vapor. The bags are easy to use or to pass around, so you will not spend a lot of time in this process.
The time that takes to heat the air and the herb is really low, so unlike other devices, you won't spend a lot of time waiting for the vaporizer to be ready to use. Last, but not least, the container is pretty big and you can fit more herbs than any other portable device on the market.
When it comes to the negative things about this unit, the first one is that you cannot carry it around with you. If you want to walk around town and use a portable device, then you should choose something else. This unit is only for home use and even though it is not heavy to transport, we cannot say that it is a portable device.
The setting process may take you a bit of time. There are a lot of cords and tubes that need to be assembled before you are ready to use it. Most users say that they only do this once when they first set it up and if they don't need to move the unit around, they don't disassemble it unless they need to clean it.
Even though you should not have trouble learning how everything works, this vaporizer is not as simple as the portable ones. There are things that you will have to read and learn how to use. You will need to learn how to set or change the temperature, how to use the fan, and if there are any additional features that you might want to use. Make sure you read the instructions before you set it up and have the user manual next to you the first few times you use it.
If you are looking for something that has a lot of different functions and that you can adjust any way you want, this is the right device for you. You should be ready to pay a bit more than similar units, but it should be worth it.
People who already own the older versions like the digital or the classic volcano vaporizer don't have to upgrade to this device. Even though it has additional features, it won't make too big of a difference when you use it. However, if you don't have any of those, and if you want to get something that will be worth the money, then you should definitely look into this device.