HHC vapes are practically everywhere nowadays. But what about something for those who don't want to vape, or would prefer other options? That's where HHC gummies come into play. It can be hard trying to determine which product to try and which ones to trust. So we've created a list of the Best HHC gummies on the market right now.
3Chi – Best HHC Gummies
Reefer's Bay – Most Reliable HHC gummies
Skyhio – Most Affordable HHC gummies
It can seem like a lot of options, but we are here to break down each brand for you to make your HHC gummy purchasing experience as smooth and enjoyable as possible.
#1. 3CHI – Best HHC Gummies
Along with pioneering Delta 8 THC, 3CHI was one of the first brands to introduce HHC products to the market. And like their other areas of cannabis R&D, 3CHI invested in best-in-class processes to do the research and get it right. 3CHI's HHC is among the best on the market because 1) it delivers the highest % concentration of HHC in final products, and 2) 3CHI's HHC focuses on yielding the highest % of the 9R enantiomer, which is the most active and potent compound in HHC. Other brands may have higher concentrations of the 9S version, which has been researched to be a less potent form of HHC.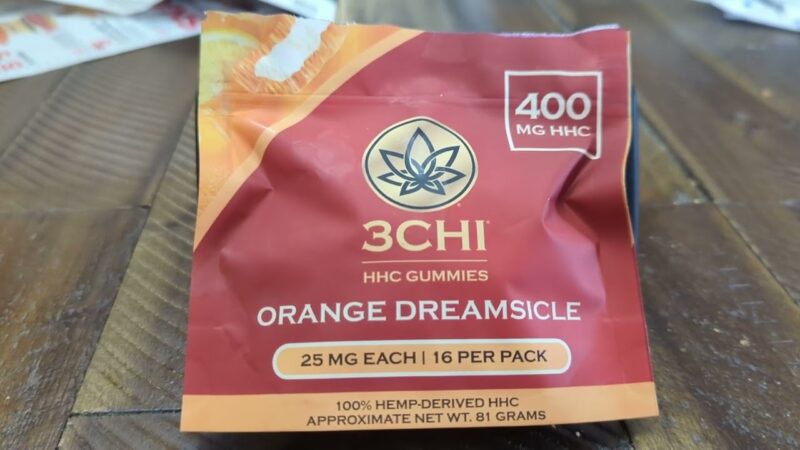 Highlights
Recently, 3Chi won Best Vape Pen with their Blue Dream HHC Disposable Vape Pen at the 2023 High Times People's Choice Awards. Previously, they also won Best Disposable Vape for the same Blue Dream HHC Disposable Vape Pen at the 2023 USA CBD Expo. Now, they've taken their award winning HHC and added it to gummies. Their HHC gummies come in a delicious orange dreamsicle flavor and are vegan friendly and fast acting. Having a fast acting, uplifting gummy can create a better overall euphoric experience.
Pros:
Award-Winning HHC
Purest HHC on the market
Large variety of edibles
U.S. Sourced Hemp
Cons:
Customer Service can be difficult to get ahold of
Limited exchanges
#2. Reefer's Bay – Most Reliable HHC Gummies
Reefer's Bay offers great products, helping consumers "live the island way" with their affordable products. After hearing how other brands cost an arm and a leg for their HHC products, Reefer's Bay wanted to offer their customers affordable HHC products, just like they did when they offered their Delta 8 buried treasure to the masses. Hemp-derived HHC, from U.S. sourced hemp, is the best of the best, creating euphoric, and pleasurable experience.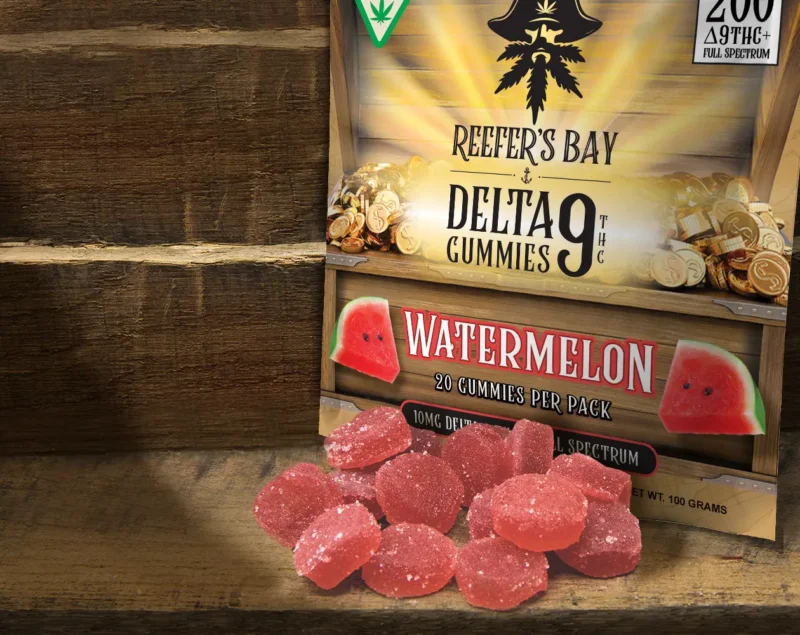 Highlight
To stand out from the crowd, Reefer's Bay is offering HHC gummies made with 95 percent pure HHC, the best quality on the market. Each gummy offers a standard dose of HHC with 16 gummies inside each bag, for a total of 400mg HHC per resealable package, offering more than one euphoric high.
Pros:
U.S. Sourced Hemp
No Cutting Agents Used
Pure HHC oil
Cons:
Online only
Customer Service online forum only
#3. Skyhio – Most Affordable HHC Gummies
Premium Delta 8 at Midwest prices is the motto of Skyhio. And with such a positive response to all of their Delta 8 products, they too have gotten on the HHC train. This time, they are staying on top with their soft, gooey fudge brownies. These bad boys are filled with pure HHC and provide some of the best sensations for consumers regarding HHC. Euphoria has never tasted so good and been so nice on your wallet.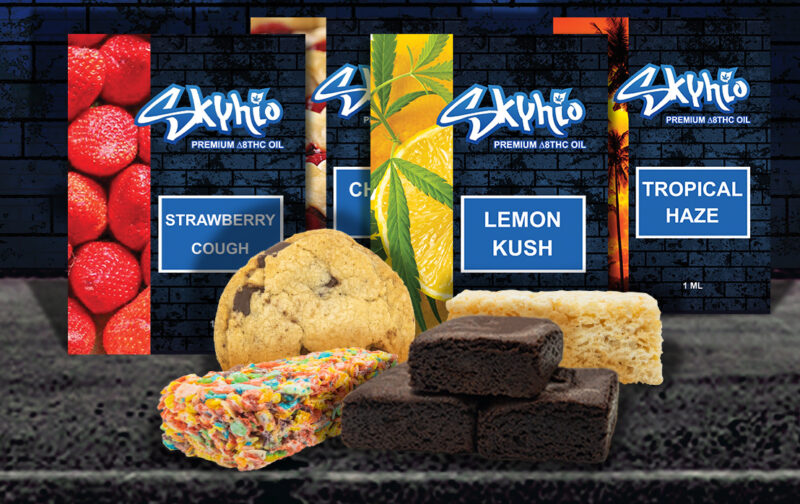 Highlight:
Additionally, once consumers place their order, Skyhio offers some of the fastest shipping available. They ship to all states where HHC is legal, which is more than the states with legal Delta 8 THC. Ordering with Skyhio will guarantee you get your product faster and can start enjoying HHC sooner rather than later.
Pros:
Fast Shipping
Pure HHC OIl
Affordable Prices
U.S. Sourced Hemp
Cons:
Online ordering only
No returns and limited exchanges
How We Chose These Products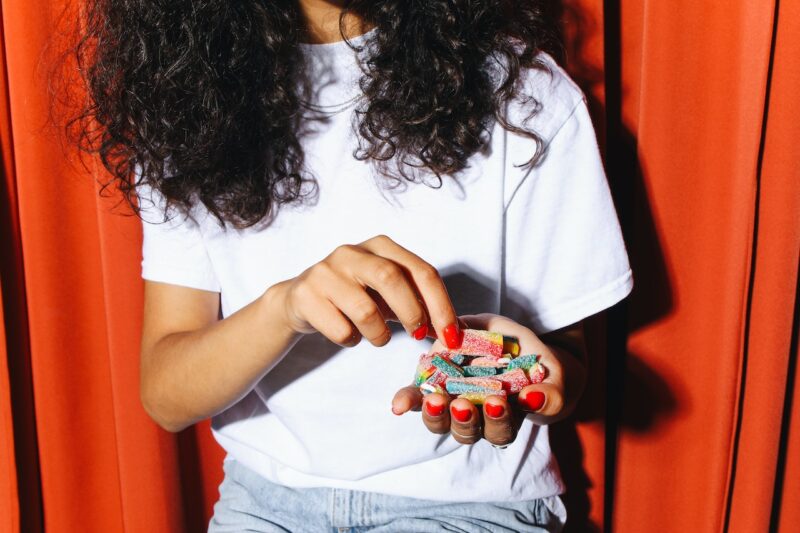 Hemp Source
Knowing where a product comes from is the very first step when it comes to looking at the best brands. It's critical to know that hemp is grown in a secure, nutritious environment where no pesticides or harmful chemicals are used. This helps guarantee the safety of the product as it moves down the production line. Keeping hemp sources in the U.S. is another positive to look for, helping local businesses benefit from product sales.
Ingredients
In addition to the cannabinoid, it's important to know the other ingredients inside each HHC edible. Taking care in using natural ingredients and non GMO hemp to create pure quality products is essential. We also made special note of companies using natural and vegan ingredients to help create an HHC edible everyone can enjoy.
Third-Party Lab Testing
Testing products to make sure they are high quality and contain no unwanted additives was imperative to creating this list. If a brand didn't lab test their products, or didn't use a third-party to test their products, then they were automatically removed. Having an unbiased, third-party test your product can guarantee the quality and produce lab results to back up claims. It's also crucial to make sure that each product follows all laws and guidelines.
Reputation
Looking at how a brand interacts with its customers and the services it provides is another large contributing factor when we put together this list. Customer service is important to making sure customers like what they are getting, and if there is an issue, to make sure it gets resolved quickly and efficiently. Having customer support is a must for this list, whether it's a phone number you can call, or an online forum to fill out and receive help through chat. Making things convenient for both customers and the brand helps create a positive reputation that will spread across the industry.
Frequently Asked Questions About HHC
What is HHC?
HHC is a naturally occuring cannabinoid found in the cannabis plant. It offers some relaxing and euphoric sensations said to be slightly stronger than Delta 8, but not as strong as Delta 9. HHC products naturally contain no THC, which makes them ideal for those who are wanting a euphoric feeling without the stress of consuming any THC.
Conclusion
For us, we highly recommend purchasing your HHC edibles from 3CHI. The brand offers award winning HHC in their edibles that come in a wide variety of forms. Each edible contains 95% pure HHC. The best part, they continue to innovate the hemp industry, not just with their HHC products, but other cannabinoids like Delta 8, Delta 10, and THCv. 3CHI is definitely the way to go when it comes to any HHC products.